Liverpool Counts Quality Mark
Liverpool Counts is the Liverpool Learning Partnership's response to the identification of mathematics as an issue facing settings, schools, academies and colleges across all phases in the city.
Liverpool Counts is based on the successful model of Liverpool: City of Readers and aims to raise standards in numeracy and mathematics by changing attitudes and perceptions through the delivery of the Liverpool Counts quality mark and the promotion of the importance of numeracy as a life skill through business links and cultural opportunities.
The agreed priorities of Liverpool Counts are as follows:
To raise standards in mathematics and numeracy with fun and joy of number at the heart of all aspects of the strategy

To challenge perceptions and change attitudes towards number and mathematics

To raise the profile of numeracy through a range of activities, events and resources with an emphasis on the application to real life contexts

To bring relevance to numeracy through problem solving set in local contexts

To enhance the delivery of the new national curriculum at all key stages and the early years foundation stage

To secure a shared understanding between the phases of education with an agreed common mathematical language and transition projects

To promote the use of technology to engage learners

To involve parents and the local business and cultural communities

To creating a sustainable legacy of a love of numbers
Meet our Maths Ambassadors 2018-2019
Meet our Maths Ambassador Team who will be promoting the love of Maths at Eaves this year. If you have any maths ideas then speak to a team member who can discuss it at their next ambassador meeting.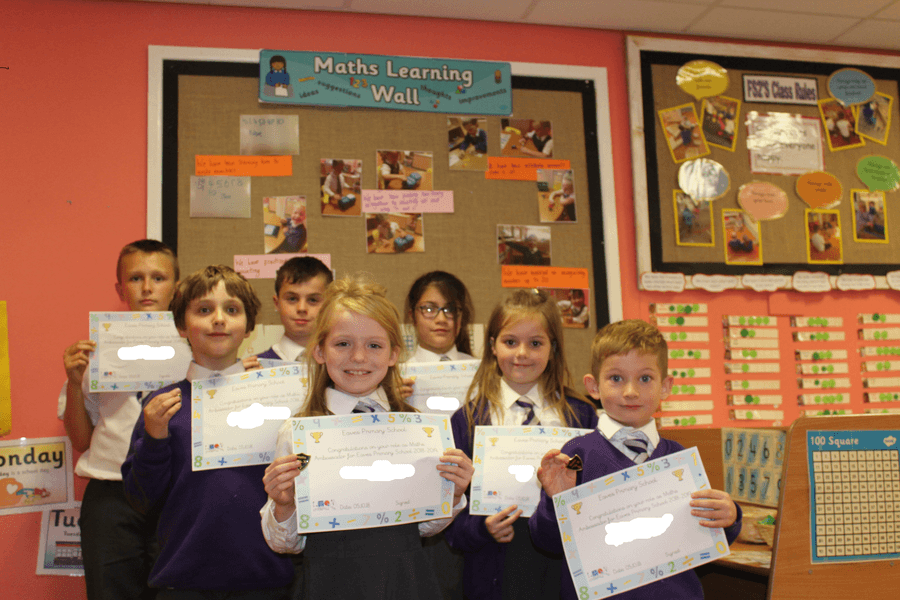 Useful links for adults
http://www.familymathstoolkit.org.uk/
The Family Maths Toolkit helps children to improve their everyday maths. The Family Maths Toolkit is full of ideas to help parents, families and children aged 13 and under enjoy everyday maths activities together.
Top tips for parents and families
Be positive about maths. Don't say things like, "I can't do maths" or "I hated maths at school"; your child might start to think like that themselves.
Point out the maths in everyday life. Include your child in activities involving maths such as using money, cooking and travelling.
Praise your child for effort rather than talent – this shows them that by working hard they can always improve.
We want YOU, parents and carers, to share how you use maths in your everyday lives. We would love you to come into one of our classrooms to talk about how you use maths in your job or hobby with the children and their teachers. We want our children to make strong links between maths and real life situations.
So, if you can spare some time to come and 'talk maths', leave your name and contact number with the school office.
The National Numeracy Challenge
Mike Ellicock, Chief Executive of the National Numeracy Challenge has stressed the importance of challenging anyone who says, 'I can't do maths' with 'Yes, you can'. Liverpool is launching the Challenge city wide and everyone can get involved – follow this link to learn more.http://www.nationalnumeracy.org.uk/challenge-online
How to get involved
Try the above challenge! 
Never say, 'I can't do maths'.
 Look for what maths you have used each day; time, recipes, football data!